This image of the Crab Nebula combines data from 
NASA's Imaging X-ray Polarimetry Explorer(IXPE)
in magenta and NASA's Chandra X-ray Observatory in dark purple.
Credit: X-ray (IXPE: NASA), (Chandra: NASA/CXC/SAO)
Image processing: NASA/CXC/SAO/K. Arcand & L. Frattare
APRIL 10, 2023
by Elizabeth Landau, NASA's Goddard Space Flight Centre
On Feb. 22, 1971, a sounding rocket lifted off from Wallops Island, Virginia, with specialized sensors aimed at the Crab Nebula, a bright cosmic object 6,500 light-years away. In those days, before recovering physical tapes from the experiment, scientists first received scientific data on a strip chart recorder, a device that printed signals on paper. Astronomer Martin Weisskopf and his colleagues began their analysis on launch day by measuring the distance between signals using a ruler and pencil.
"What makes science so beautiful and exciting is that for those few moments, you're seeing something that no one has ever seen before," said Weisskopf, now an emeritus astronomer at NASA's Marshall Space Flight Centre in Huntsville, Alabama.
Decades later, Weisskopf proposed the development of an Earth-orbiting satellite with powerful instruments that could gather much more detailed measurements of the same kind about the Crab Nebula and other mysterious cosmic objects. That satellite became NASA's Imaging X-ray Polarimetry Explorer (IXPE), which launched on December 9, 2021.
Now, more than 50 years after the sounding rocket experiment, scientists have used IXPE to create a detailed, nuanced map of the Crab Nebula's magnetic field, revealing more of its inner workings than ever before. The new results, accepted for publication in the journal Nature Astronomy (preprint available), help resolve longstanding mysteries about the well-studied Crab Nebula and open new questions for future study.
IXPE data show that the Crab Nebula's magnetic field resembles that of the Vela Pulsar Wind Nebula, which is also donut shaped. But at the Crab, scientists were surprised that areas of magnetic field turbulence were patchier and more asymmetrical than expected.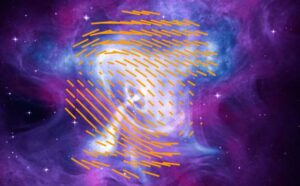 To read the full article in Phys.org please click here:
https://phys.org/news/2023-04-historic-nebula-imaging-x-ray-polarimetry.html?utm_source=nwletter&utm_medium=email&utm_campaign=daily-nwletter