An artist's portrayal of the moment when Rosetta's Philae lander touches down on Comet 67P/Churyumov-Gerasimenko.
 ESA / ATG medialab -
Days from now, the Philae lander will drop onto Comet 67P/Churyumov-Gerasimenko. In the meantime, the "mother ship" Rosetta is watching the icy nucleus — and smelling the mix of gases escaping from it.
In less than a week, teams of comet scientists in Europe and elsewhere will witness the culmination of an effort begun by the European Space Agency nearly two decades ago. A small instrumented probe, named Philae, will descend toward the icy nucleus of Comet 67P/Churyumov-Gerasimenko and gently drop onto its surface — becoming the first spacecraft to land on a comet. (
Here's the timetable
for the landing on November 11th.) ESA engineers are hoping Philae will operate there for several weeks.
Amid all this drama, however, a second mission is taking place. Rosetta, the washing-machine-size "mother ship", has been slowly orbiting the comet's irregularly shaped nucleus since mid-August. It's been busy for the past 2½ months, not only assessing the terrain for an optimum landing site but also taking stock of the nucleus and its activity.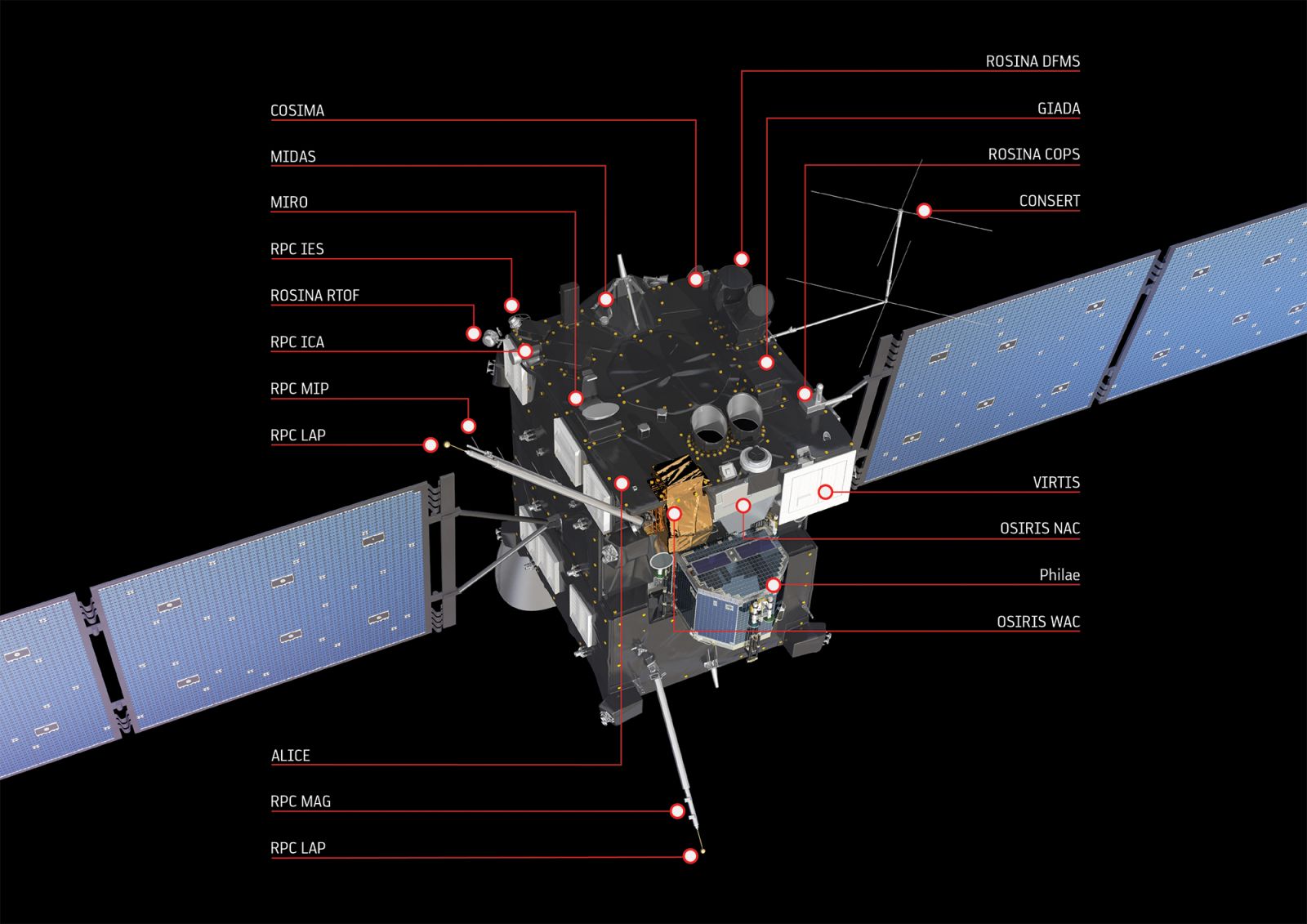 Rosetta's scientific payload consists of 10 instruments — 11 if you count the craft's radio transmitter, which plays a crucial role in determining the shape and mass of the nucleus. Public interest to date has focused on OSIRIS, the German-built Optical, Spectroscopic, and Infrared Remote Imaging System. The camera's two lenses, 140 and 700 mm in focal length, have provided all of the dramatic views seen to date.